29.07.2019
The research company has increased the number of locations where they collect data about radio listeners and now provides data about the audience of radio stations across the whole country, including lesser populated areas.

The earlier data measuring radio listeners only included citizens of Russia aged 12 and up, living in cities with more than 100k people (52% of the country). From the year 2019, the research of the project Radio Index has been extended to include the population of all the regions of Russia covering everyone from the age of 12.

The results of the research in the whole country show that radio listening outside of big cities remains at a high level. According to the data from the first half of 2019, the monthly audience of radio in the whole of Russia reaches 107 mil people (or 87% of the population). Every day 70 mil people listen to the radio.
Russia's radio audience
(in millions)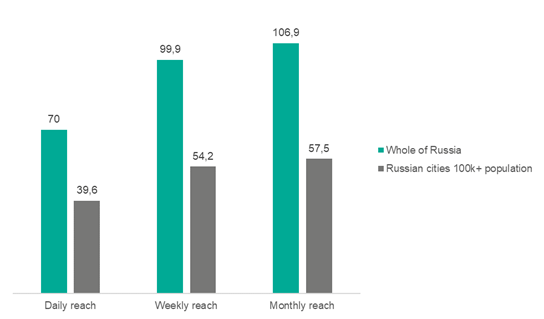 (Mediascope. Radio Index, first half of 2019, population aged 12+, daily, weekly, monthly reach)
The data supplied from the radio measurements across the whole country includes detailed information about the volume and characteristics of listeners of network radio stations, and the location, time and duration of listening. The supply of data about the audience of radio stations in cities with a population of over 100k people will remain accessible as well.

"The increase in locations included in the radio measurements was expected and supported by many players in the Russian radio market. We hope that the data from the whole country will allow radio stations to better analyse their audience and its preferences outside of big cities, and advertisers and agencies to seize new opportunities to create effective radio advertisement campaigns, covering the whole country." Commented Yulia Nikolaeva, the head of radio and press research in Mediascope.
Tags: