15.07.2019
From the 1st of July 2019, the company Mediascope has widened their research population in the study WEB-Index to the age group of 12+. The active growth of internet usage amongst Russian aged over 64 has allowed for the removal of the top age bracket in the study. Before only people aged 12-64 were represented in the study.

Currently the growth of the total audience of RuNet is mostly happening due to the older group and the increase in usage of the internet on mobile devices. Amongst young people (12-34 years old) the usage of the internet has already surpassed 90%, whereas amongst people older than 34 the popularity of the internet is continuing to increase.

According to the data from the establishment research by Mediascope, the number of internet users older than 64 has increased by 55% in the last 2 years, to 7.5 million people (data from December 2018- May 2019). The usage of the internet among this age group increased from 24% to 36%.

Among Russian citizens aged 65+ the usage of the internet on desktop computers is still more common than on mobile devices, in contrast to the rest of the country. The majority of Russians older than 64 use computers and notebooks to go online – 26% of the age group use this method to use the internet at least once a month. 20% use mobile devices to go online, while only 10% of people older than 64 exclusively use mobile devices to use the internet.

The supply of data from the widened research population of WEB-Index will happen in stages. The first stage, data from the site-centric panel about the desktop audience aged over 12 (over the period from the 1st to 7th of July) is already available for the clients of Mediascope. The desktop user-centric panel data will be available at the end of august. The release of data about mobile use is planned for release in September.

Following the widening of the research population of the project WEB-Index, the top age bracket will also be removed from the Big TV Rating study, the aim of which is to provide data about the audience of TV content on computers and laptops. The changes in the project Big TV Rating and the availability of data from the increased research population are planned for autumn.

Internet usage in Russia
(% population in the age group)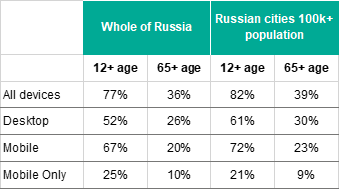 (Mediascope.WEB-Index, establishment survey, December 2018 - May 2019, monthly reach)
Tags: