03.06.2019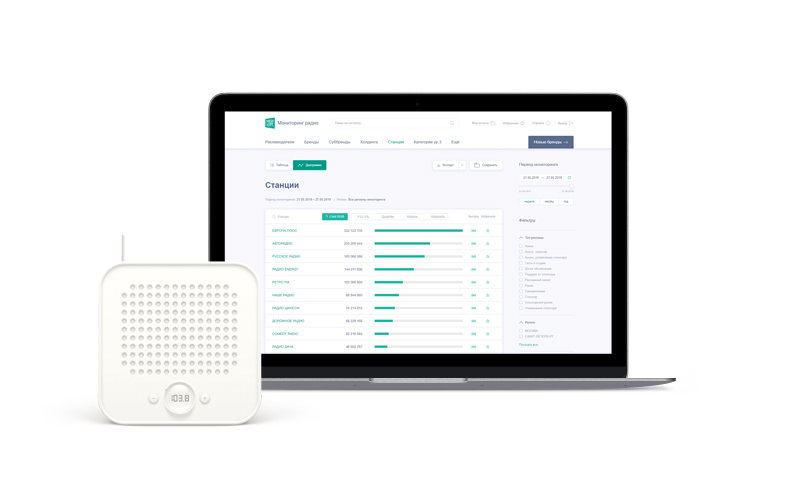 Mediascope has released a new interactive service (dashboard) for working with data from radio advertisement monitoring. It simplifies the analysis of reporting on advertising placements in radio stations and allows prompt tracking of changing trends in the radio advertisement market. Now, radio stations, advertising agencies, and advertisers can evaluate advertisement activity across the whole market or of separate market players in a convenient web interface in a matter of a few clicks of a mouse.

Among the main advantages of the dashboard are: automatic daily data updates, quick search in the catalogue, and a visualization of reports in the form of graphs and diagrams.

The dashboard allows for the analysis of radio advertisements across all aspects of the monitoring: advertisers, brands, category of the good, radio stations and holding company. Several parameters of adverts placements are available for users: costs (according to official price lists), volume and duration of advertisements. While making reports on the dashboard, several filters can be used, including the region, type of ad placement as well as the type of advert.

On the basis of the radio advertisement monitoring on the dashboard, 5 types of reports can be made:

An overview of the whole market according to any aspects of the monitoring;
A report on a chosen advertiser, brand, category, radio station or holding company with the data on the trends and structure of the ad placements and competitive environment;
A report comparing several market players which have been added to Favourites;
The advertisement activity of new brands on the radio over the previous day or week;
A report with a verification of the release of advertisement videos.
The reports created using the service can be shared (their links will include all the parameters and filters chosen during their creation). The data from the report or its separate diagrams can be exported to XLS or other commonly used formats.

The use of the dashboard is supported by the latest versions of the browsers Chrome, Safari, Firefox and Edge. In order for the dashboard to work properly ad blockers must be switched off (for example AdBlock).

Detailed information and video instructions on using the dashboard are available on its page in the reference section.


About radio advertisement monitoring

Mediascope does independent monitoring of radio broadcasts on all radio stations in Moscow and the main radio stations in St Petersburg, Volgograd, Yekaterinburg, Kazan, Krasnoyarsk, Nizhniy Novgorod, Novosibirsk, Omsk, Rostov-na-Donu, Perm, Samar, Uf and Chelyabinsk. For every radio station, there is a 24-hour digital recording of the broadcast. Every broadcast is registered with information about its name, start time and duration. For advertisements the advertiser, brand and category of good is registered. The cost of ad placements are decided according to the official price lists of radio stations.
Tags: