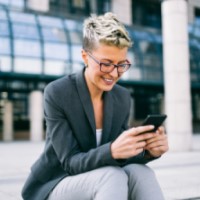 27.05.2019
The research carried out by Mediascope showed that only 13% think that their understanding of technology is better than the rest of the population.

The company Mediascope has done a study about modern technology, inventions and gadgets, and has found out that Russians know how to use them, how technological development and its future are represented. The research took place among citizens of Russian cities with a population of more than 100k people from the age of 18. Around 2000 people took part in the study. The results of the research were presented by Mediascope at the conference 'Change your mind' ('Izmeni soznanie').

The most important technological developments in the last few years according to Russians was shown to be 5G connection, smartphones, robotics, medicine, artificial intelligence, 3D printers, electric cars, artificial organs, autopilot, as well as space and mars exploration.

Russians do not imagine their lives without social media, GPS apps (maps and navigation), and financial internet services (banks, payment apps and public services) - on average 80% of the Russian population uses these services. This is followed by entertainment services which are used by 63% of Russians as well as transport, travel and online shopping which are used by over 40% of people. Almost a third of the population uses online food delivery services and domestic services.

The participants of the study were offered to answer the question; 'how well do you understand modern technology?' Only 5% of the population believes that their understanding is very minimal and that they are 'useless' when it comes to technology, and only 3% think that their understanding is very advanced (at the level of 'gurus'). The majority of the population classed their technological on a scale of 1 to 7 a '3' or a '5'- for each of the numbers around a quarter classed themselves at that level. Only
13% of the Russian citizens classed their technological knowledge higher than the average of the rest of the population.

The majority of information about new technology Russians get from social media, as well as from television and news platforms- around half of the population uses these sources. Around a quarter or Russians also search for new knowledge about technology from their social circles and relatives and from non-fiction publications. Thematic blogs and messenger channels as well as professional websites and literature are read by around 10% of the population.

According to Russians themselves they best understand voice overs, virtual reality and artificial intelligence. How augmented reality, machine technology, neural networks and blockchains work is only understood by less than 10% of the Russian population.

According to the opinions of the participants of the study, media and communication technology is being developed the fastest- 85% believe this. 74% believe that weaponry technology is being developed the quickest, and 58% believe that space and medical technology is the quickest as well as 54% believing that technology in advertising and marketing is developing at the fastest rate. Russians don't see any technological development in agriculture, educational, sales or service technologies.

According to Russian citizens, the main hindrance in technological advancement is thought to be corruption, bureaucracy and a high price of new technology. This is thought to be the case by around 50% of the population.

Among the negative effects of technological development, Russian people believe that the most likely is the degradation of people - 70% of people agree with this. The degradation is linked to death caused by consuming GMO foods, lower levels of intelligence due to excessive consumption as a whole, the end of face to face communication, living in a virtual world and the transformation of people into cyborgs. Russians also worry that there may be a nuclear or environmental catastrophe, yet the development of technology will lead to total government control and unemployment.

In spite of their concerns, Russian people believe in positive technological progress and expect mass spreading of driverless vehicles, the delivery of parcels by drones, clothes made from recycled plastic, artificially grown human organs, and to completely stop using paper by the year 2030. More than half the population believe that gadgets will be added to clothing, and around a quarter believe that at first devices will be carried in pockets or will be installed inside the body. In addition to this, Russians wish for the invention of teleporters, devices for synchronized translation of any language and a medical bracelet which would give doctors information about the patient.
Tags: