15.01.2019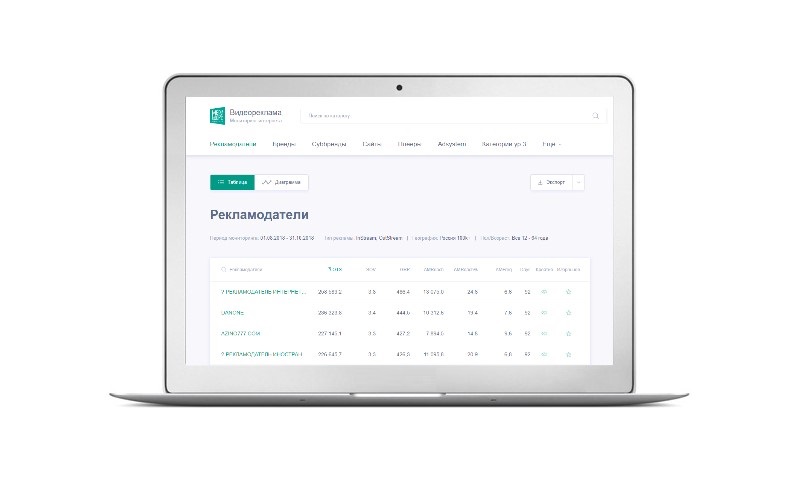 The company Mediascope has released an interactive dashboard for working with data from internet video advert monitoring. The new tool helps to analyse desktop in-stream postings on a convenient and functional interface.
The interactive dashboard is an online service which gives advertisers, agencies and platforms access to data from video advertisement monitoring from Mediascope and allows them to analyse the volume and audience of advertising placements.
Analysis is possible regarding all the aspects of the monitoring: the advertisers, brands, category of the good, website, viewing platform and other aspects. While making the reports different filters can be implemented: location, socio-demographic groups and aspects of monitoring.
On the basis of the data from the online video advertisement monitoring on the dashboard, 3 types of reports can be made:
1. A general overview of the market according to advertisers, category of good, website and other data from the monitoring.
2. A report of the chosen advertiser, category, website and other things with the data from the trend of advertisements, the socio-demographic profile of the audience and the structure of ad placement.
3. A report comparing several advertisers, categories, websites and other things, which have been added to the favourites.
The reports created using the service can be shared (their links will include all the parameters and filters chosen during their creation). The data from the report or its separate diagrams can be exported to XLS or other commonly used formats.
To test the new service there is a demo-version available using this link. The use of the dashboard is not supported by Internet Explorer and outdated versions of other browsers, we recommend using the latest versions of Google Chrome, Edge or Safari. Ad blockers such as AdBlock can also hinder the proper functioning of the service.
On the reference page of the dashboard, video instructions are available explaining how to use the service.
How the monitoring of internet video advertisement works
The monitoring done by Mediascope is based on the collection and processing of metadata (all files VAST XML 2.0, VAST XML 3.0, as well as VPAID content and JSON files for ivi, mail.ru) form video advertisements, with the help of a specific software on the computers/ laptops of the respondents of the research WEB-Index (user-centric panel). Monitoring happens on all websites with video content. For the website youtube.com, data collection happens automatically when the URL is searched.
The monitoring of online video advertisements is independent. The company collects data independently on the placement of video advertisements, without the participation of sites and agencies.
Tags: